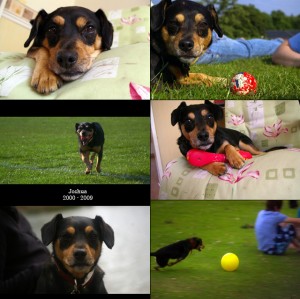 Joshua had to be put to rest early last week after discovering that he'd developed cancer (that had spread from liver to lungs). This is the first time I mention him here, mainly because I posted so little over the last year; he'd become a quite important part of my life for the short time I'd known him. I'd spent New Year over at Alex place, as my landlady finally got someone to rewire the house and fix electricity; there was no power here for a few days. Add to this that my dissertation refused to be written and gave me a hard time – I needed to get away from sitting at home alone. He'd been part of the audio recordings I did as part of the Headsound project at FACT – providing "dog noises" mixed in, here and there.
Josh had been sick for a while, unable to keep food down, losing weight. We ended up staying in on New Year's eve to not risk exposing him to the freezing conditions and brought him to the vet the day after. They thought it was just a virus, initially. So this is for a dog that kept his playful nature even when terminally ill. That – as most animals – just been there and kept others well. Those last few nights he swapped between Alex' and the guest room I was using, sleeping on the footend of our beds – a few hours here, then there.
I am glad I had the privilege of having him in my life and be allowed to share some time.